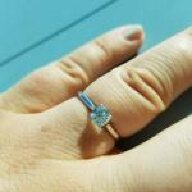 Joined

Apr 18, 2012
Messages

153
I purchased this ring from a well known ebay seller. It was listed as a french cut band, but upon seeing the ring, my research tells me that the diamonds are carre cut. is this correct?
Here is the main problem. The ring is not in good condition as it has a chunk missing from the top of the channel, and the stone beneath it is set very crooked. I am in the return window and can return the ring as is, but I am interested to know if I'm better off resetting the diamonds into another 7 stone ring. I like the look of the diamonds. The ring is kind of too chunky for my taste, though if it had been received in good condition I would have worn it anyway as a right hand ring. The diamonds were sold to me as 1.05ctw, and they are slightly tapered so that the center is larger. The ring is 14k white gold. The seller listed it as excellent

Should I reset the diamonds into another setting?
Send it back and get a refund? (the purchase price was under $800)
I'm taking the ring to my jeweler today to see what he thinks of the diamond quality. They look really clean, and very white. I know NOTHING about step cuts, so because I cannot see any inclusions, I am not entirely sure they are real!