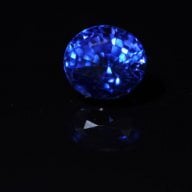 Joined

May 5, 2005
Messages

348
I have three stones I'd kind of like to make stackers out of, a lovely Mahenge spinel, a tsavorite garnet, and a blue sapphire... but I'm afraid to bezel them. The sapphire and tsavorite in particular I think would go very dark in a bezel, though the spinel is such a hot little fireball that it would probably be fine. Is it possible to make stackers with prongs? I'd be afraid the stones would mash each other, and that would be bad, of course!
Another thing I was thinking was to just make "prong stackers" with the spinel and tsavorite, which are the ones I really want to set, and maybe substitute a small brilliant-cut light blue sapphire and bezel that, if I can find one, and make sure that one is always in the middle. But perhaps that would look weird as well!
Here's a very bad pic of the stones I want to stack!