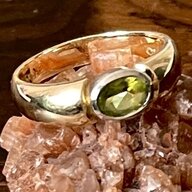 Joined

May 22, 2005
Messages

63
Hi there, folks!
I have this trinity ring inherited from my mom and I never wear it. Not only is it too small but I don't like the setting. It's too high for me. I like something low and smooth to wear every day that won't catch or bang into things. What do you think would be some good styles for it, also in white gold, I think, and where is the best place to get diamonds reset without breaking the bank?
The ring is already a reset. The three diamonds are all different cuts. I think they were from three different antique rings and were set into a trinity many years ago, even before my mom had the ring. Someone told me the cuts are European, OM and rose but I do not know. Do not know the stone quality either. I would guess the weight to be roughly 20 points on the two side stones and maybe 30-40 on the center stone? Gosh, I don't know much, do I?
So what is your advice for the best way to go about this, to find out about the stones themselves, pick out a setting and get it made up? I am in Canada, in case that would temper your advice.
TIA!