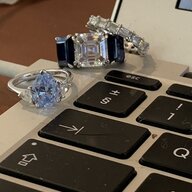 Joined

Jul 19, 2019
Messages

48
Hello PS!
I've been a stalker of these forums for over 6 years. I know the date almost exactly because I started searching the web for rings like mine once by now husband surprised me with an embarrassingly lovely engagement ring and the only place I could find a community with similar items was here. (And I've been visiting for the eye candy ever since— you all have some stunning jewels!) The treats have just kept coming since then, and he's got such amazing taste. But I have a question about one of the items I got as a gift and last summer I'm wondering if the PS community has any advice.
As you can see from the pics, it's a bezel set eternity necklace. And when I wear it, it goes wonky, and not at all flat so that the diamonds end up twisting and facing my body. So what you mostly see is the side or the back of the setting. Which is super annoying!
At first I thought maybe the issue was that the connections on the sides are all at 3 and 9 o'clock— if you know what I mean— and most necklaces are set with the links at 2 and 10 o'clock. So maybe I should have someone try to rework it?
But then I wondered if maybe it's the height of the back and because of the way it's set, it would roll anyway?
I'm really curious and would love to hear any thoughts. Should I try to have the bezels redone— I mean, I have no idea how long that would take or how much it will cost— or if the problem is to do with the height and weight distribution of the settings. Please share your thoughts! Thanks so much!