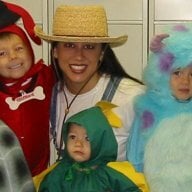 Joined

Mar 11, 2003
Messages

36
Hi Everyone,
When I first started my search for a diamond e-ring, I very fortunately found this forum. I''ve read up on the cut I liked the most, asked a few questions, and got a few responses. It seems, however, that not many people tend to respond to questions about the radiant cut and I didn''t really understand why.
Initially, I thought it was just because most people think of the round cut as the most favorable cut, and there seems to be more knowledge out there about the round vs other cuts, but after something my mom''s jeweler said to her, I''m a little more concerned. I searched several jewelers (on-line & B&M stores--including mom''s jeweler) and no one mentioned that the stone would actually lose value because of its cut until today. The comment was made to my mother without me being present, and I presume it was to spare my feelings since it''s already been purchased, but she mentioned that this type of cut is not terribly popular now, and in the future, will probably lose its value.
Can anyone please corroborate or refute this comment? Rhino at
GOG
once emailed me and was certainly the most straightforward in his comments about the cut, but I didn''t get the sense that he thought it would lose value. Does anyone else believe the radiant cut will be worth less in the future than what was paid for it today? Thanks for your comments.
G.