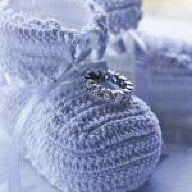 Joined

Nov 3, 2009
Messages

1,029
I'm researching my upgrade and keep going back and forth between:
RB solitaire in platinum
RB halo in platinum
Elongated OMB in yellow gold
The next stone will be 5+ carats in H color or above. I had an L antique cushion and want to go higher in color this time.
My ring size is 6 but can go up to 7 when I'm hot ever since entering my 40s.
19 years ago, my original e-ring was a 1 carat princess cut in an elaborate Simon G setting. This was pre-PS. Once I found PS, I sold that ring and bought a 2.9 carat L color cushion from OWD. Maytal Hannah set it in a 2 sided halo.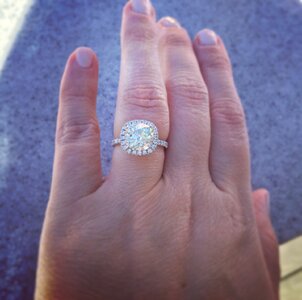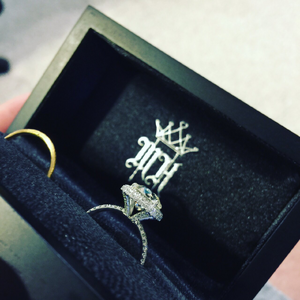 The melee was super white and I didn't love the contrast with the L diamond, although I did love this setting. A few years ago I started to feel like maybe halo settings were too commonplace which is funny because I've never seen another well done halo IRL, just PS.
A year or so back I decided to try a more vintage style setting. I bought 2 1-carat matching cushions and commissioned Caysie with CVB to make a 3 stone setting based on 2 of her designs. This ring worked in my mind but in real life was just too bulky and complicated. My husband called it a "Super Bowl ring." I shouldn't have mixed 2 styles because it felt cluttered- although the craftsmanship was amazing!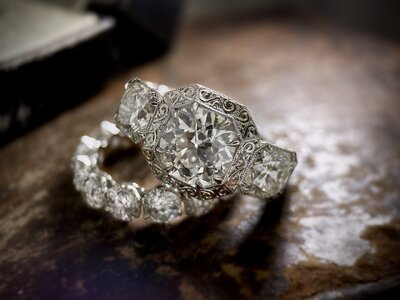 After just owning it for a couple of weeks I contacted Caysie and told her I wanted to change it again. I had fallen for all the rich yellow gold that I'd been seeing over the last couple of years so decided to take my 3 diamonds and use those in a new 3 stone ring.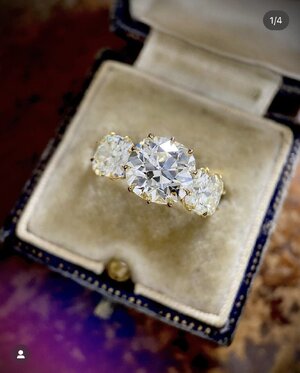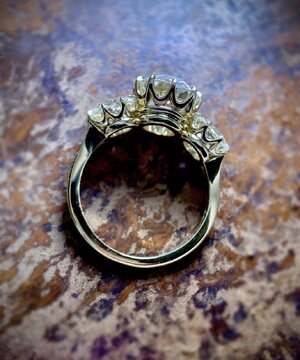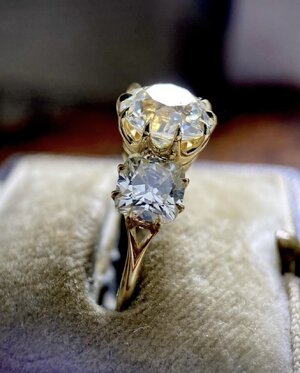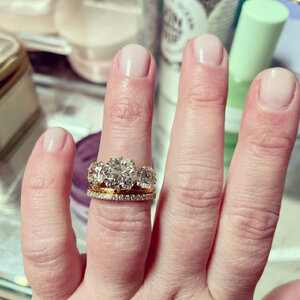 I loved this setting! However, the main stone seemed SO small after taking it out of the halo. I also realized I'm not a 3 stone girl. At least not for my e-ring. I'd love one for a right hand ring. So I decided to sell this ring and go forward with my upgrade.
A 5 carat RB will look similar in size to my first halo setting. We do have the budget to go larger but I don't think I'll see a big difference in size unless I go to 7 carats. And I'm not sure I want to go that large just for wearability.
I guess my question is - if you had a larger diamond in a solitaire setting and later put it in a halo, how do you feel about it now? Do you still love the halo or do you wish you'd kept it a solitaire?
Tagging
@m-2-b
and
@Phoenix
for their thoughts!