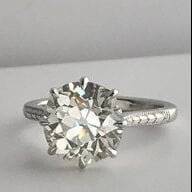 Joined

Jun 19, 2006
Messages

313
Calling all step cut experts – need your sage advice!
I have been searching for an upgrade, 2.5-3ct, EC diamond for over half a year now.
The good news is that I have seen a lot of stones in person so I've been able to refine my "want" criteria pretty specifically.
The bad news is that finding a stone with all my criteria is proving to be very elusive. I did see the perfect stone, but as it was at HW it wasn't really an option
However, I have just come across a vintage ring with an EC that is so close…very high color, great clarity, flashes prismatic colors and is the right size & chunky shape (could be the twin of the HW ring).
The "but" is, it exhibits windowing/goes see-through, primarily noticeable on one shorter side, bottom (P3?) facet.
I''ve gotten to the point where I would rather go without the upgrade than make significant compromises on color/clarity/shape/size. I realize that cut is king, so I am questioning my decision making process.
My thinking is that if I can get the stone substantially below on-line pricing, and potentially below budget, then a recut might make sense (if the windowing really bothers me over time). It has a depth of 67.5%, so the windowing isn't from being too shallow.
Am I approaching this the wrong way?
Many thanks in advance for your advice/guidance.