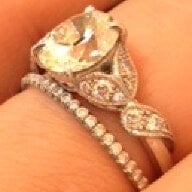 Joined

Feb 17, 2007
Messages

14,167
Hi all,
So the quest for a great ring continues. After sitting down and talking about my ring, I don''t think we''re going to go with a cushion as I had wanted. The reason being that all we can afford right now (we like to pay cash, not pay on credit)would be a smaller than 1 carat cushion in WG as we are saving for a house and in graduate school. While I LOVE the look of this size on many people, I tried some on today and it just looked out of place on my finger, and everyone was right, it is hard to tell it''s a cushion at that size without a really "square" setting like TGals, which isn''t my style either.
Since I love sapphires also we thought we might try and find an antique (or vintage or repro) sapphire ring for now and then make it a RHR later once we can afford the cushion I want. I found a great looking on from Fay Cullen (I have already been warned about the customer service, but people seem to think she offers a good deal and her rings are nice), but it is a native cut sapphire.
I LOVE the color of this sapphire, as I don''t like the really saturated colors for myself but I was wondering a few things:
1. What is windowing and is it really a big deal?
2. Are native cuts really that bad? Or just not as nice as it "could be" if it was cut optimally?
3. Does the $2,000 price tag seem somewhat fair?
Thanks for everyones help...Sapphires seem to be a bit difficult for me to figure out.
BTW: The ring is about $2,000 with full cut diamonds and set in platinum. The sapphire is 2.62 carats, untreated (can you really ever know this for sure?), and it is from Ceylon. Since the entire price of the ring is basically the price of some of the platinum settings I have been looking at, I don''t think it''s a big deal if the stone isn''t worth a ton but I want to make sure if my BF were to purchase it (not that he would tell me) that it wouldn''t be a rip off.