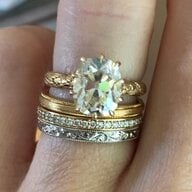 Joined

Jan 2, 2014
Messages

968
Probably 80% chance I'm not in the market yet so nobody waste too much time but this stone caught my eye. Love the shape, Maltese cross and mostly of course the size! Thoughts? Has it a bit of a bow tie going on? And the N? Hmmm
https://www.jewelsbygrace.com/3-58ct-elongated-cushion-cut-diamond-gia-n-si2
Then that off course got me on to looking in other places. These one is smaller but shape is so similar and obvs. the color. And it still sizeable. No mention of eyeclean but looks like it might be. Maybe some of the facets are a little mushy though?
http://instagr.am/p/B3-CqOJlZBV/
Recently been thinking I would like to do an Art Deco style 3 stone with emerald sides. Before looking at these I was thinking an AVC stone, rectangular cushion around 8mm so about 2 carat or smidge over in I color. Fairly specific and no sign of anything like that in recent times. I would have probably done a mix of white and gold metal.
With the two stones above I would go yellow gold and maybe ruby sides. Maybe a bit more Victorian in style.
Would be interested in others thoughts on any of the above garble