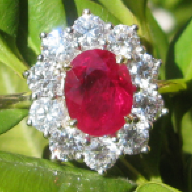 Joined

Aug 15, 2004
Messages

5,537
I''m still on a quest for the perfect home for my warm oec. It measures 6.0x6.2mm, so just a nice medium size. I want to maximize the color and the beautiful sparkles that come from the cut.
Thanks to Coati and ButterBean, I''ve been gawking over all of the James Meyer and Ann McKay setting. I just found the Caleb Meyer site and my heart went thumpa-thump

! I have pulled out three designs that I think would be lovely. I would love to hear your opinions.