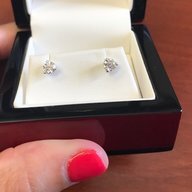 Joined

Jul 10, 2018
Messages

64
Hi all,
Because Covid has put wedding planning on the back burner, I'm considering upgrading my engagement ring again to keep myself busy. I originally started out with a 1.4 G, VS1 from a non-super ideal vendor. I now have a 2.1 F, SI1 from Whiteflash in their Harmony setting (pave, 4 prong):
Harmony Setting
And while I really like the setting, I find myself missing the six-prongs that my old setting had.
So I'm thinking of opting for the Cadence setting when I upgrade:
Cadence Setting
Do any of you have it currently? It's a bit hard to see what it would look like on the hand or in real life from the website photos. And, if you have any suggestions regarding alternatives, I'm all ears. I'd prefer not to go over 2,500. Thanks so much!