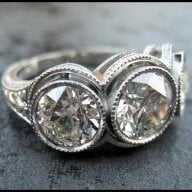 Joined

Jan 26, 2008
Messages

861
Is it possible to recut a large oval cabochon into a smaller, round cabochon? Understanding that a lot of the material will be lost.

I have bought a Gurhan ring with a center stone I don't like and want to replace with a cabochon. Tan has several I am interested in. They are big enough that I would think they could be cut down into a round shape of the size for my ring.

Is this possible? Would anyone here recommend someone to do that? Also, who would you all recommend to replace the stone in the ring? This is one of those heavy 24kt hammered gold rings and the stone is in a bezel, so it will have to be opened and then reconstructed.

If recutting isnt' an option, who do you recommend with a good selection of cabs?

Thanks.