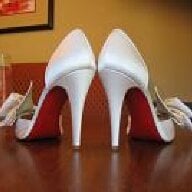 Joined

Nov 13, 2007
Messages

5,720
So... since we only ususally take up about a page or page and a hlaf a week, I figure we can spread these out a little bit.
I just got back in town from going home to do the first dress fitting and engagement pictures!! Everything went great. They are taking an inch in on each side of the hips, 1/2 inch on each side of the waist, and a 1/2 inch from each side of the bust!! I should add that when the dress was purchased, the chest was all most to the point of tight and the hips were the only real place we had fitting issues. The dress looks amazing!! Now I just need to work on toning my arms, and everything will be perfect

I'll attach a picture below of me in the dress at the fitting. (We also decided on cathedral length veil.)
Thanks for keeping me motivated ladies!!

How was everyone else's weekend??