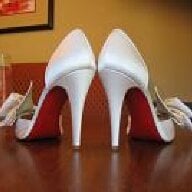 Joined

Nov 13, 2007
Messages

5,720
Ok, I've never headed a thread before, so bear with me

I used to work out in college because I was in sports, and was in sports literally all my life. I'm about 5-8 and at the beginning of this week I was at 140. This is down from my heaviest of 145 when I wasn't eating very healthy a few months ago. I stopped eating fast food back in November. It doesn't sound like a lot, and actually the weight doesn't bother me, it's that I have absolutely no muscle tone anymore. I'ts like my skin just sits on me. I carry most weight in my stomach and my chest, and it shows in my arms when they aren't toned. I hate that my chest has gone up 2 bra sizes just from gaining 10 lbs!!
Anyway, I started doing 30-day Shred and it's been great. I get really good cardio, and I can already feel new muscle tone!! I did it Saturday, Sunday, and Monday... and took yesterday off. So I'll be on my 4th day tonight!! I weighed myself this morning and was at 136. I think that I have probably lost a good 2-3 lbs since starting.
I'm not trying to look rail thin, I have a athletic build. I just want to look like an athlete again.
Short term Goal
: Be between 130-135 and have some ab and arm definition by 2/28, when I go for my first dress fitting.
Long term Goal
: It's not really easy to explain, but I'd like to be a "healthy/athletic 127-130" for the wedding (7/25/09).
I was never a part of this thread, but I think it will be great for accountability, for me at least. If you want to join, I'd love to learn more about everyone!!