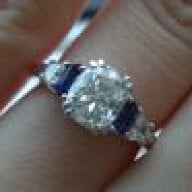 Joined

Mar 2, 2008
Messages

1,749
Who knew there were so many lapsed dancers on this board? I was a hard core ballet dancer through high school, switching over to modern primarily in college and post. Then....nothing. I went from an underweight, 5''5 and a muscular 100lbs to a realization I should be eating more, and should gain some weight...to being a muscular 120 to being a non-muscular 138, 5 years post dance. At the rate I''m gaining, I need to start doing something ASAP. For those who are keeping track, that''s close to 40lbs in 6 years.

My happy weight is about 125lb and Dancer Muscle! I purr like a kitten whenever someone notices my posture these days...I have never been able to get into "exercise" but I love dance. So my goal is to get to a class twice a week. Last week, I did two and felt sore but great! West African and Afro-Caribbean. In part, I was just really proud of myself to get back into a studio.
Everybody has been talking about Zumba, so I might give that a try. This week, I''m already behind as I haven''t been to any, but I did cook three healthy dinners so far this week. We eat out a lot, and I feel this has contributed heavily to both my and df weight gain in the past two years. Tomorrow morning there is a modern class I''m planning to take.
Short term goal-toned arms, loose 5lbs before onslaught of 4 weddings this spring to attend. First is in April.