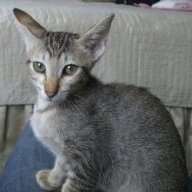 Joined

Feb 24, 2009
Messages

52
Hello all - you truly have an amazing forum. Building my e-ring with the boyfriend and have been to the Natural Sapphire Company headquarters several times over the last two weeks and have picked out a stone.
It is a 7.27 ct yellow cushion cut sapphire
http://www.thenaturalsapphirecompany.com/Sapphires/Yellow/Cushion/stoneid=Y2361
For the setting I want I need a symmetrical cut and I don''t need quite such a large stone. They didn''t have anything around 6ct in the color I liked, so they are going to recut the stone - it will probably end up around 6.5ct and be more square. How should i tell them to recut besides eliminating any "window" and adding more facets? I want it to be gorgeous and sparkly.
The setting I am going for is a Cellini micro pave with a platinum wire halo. The Cellini setting is quite expensive at $8.5k so I have put in a quote request to Leon Mege after reviewing this forums advice on micropave experts in New York. Do you think it will work well with the yellow/platinum?
See below for pictures of the setting
Thanks for all your help!