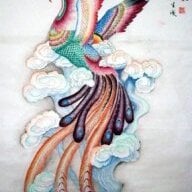 Joined

Jul 31, 2014
Messages

9,613
For anyone who has followed my posts on CS or RT in the last year or two, you'll know that I've been searching (and searching, and searching) for a brownish/champagne/pinkish brown stone. Couldn't find what I wanted in a diamond, so started looking at zircon and found it was equally impossible to find the *exact* color that I want.
I call it "brown that leans pink", which is (apparently) much harder to find than "brown that leans yellow" or "brown that leans orange". After a super depressing experience (here:
https://www.pricescope.com/community/threads/kite-shape-stones-anyone-have-them.251466/
) in which I thought I found a perfect stone before realizing how giant the window was, I gave up and decided to let
@Rhino
work his stone-finding magic.
Spoke with him via phone about my odd preference for color, and he asked if I was open to MMD. Since I love my moissanite and honestly have zero "mind clean" issues or preferences, I said I was totally ok with it. He mentioned that one of his suppliers has CVD stones of this exact color, and said he'd get back to me.
Within 24 hours he had 5 options (seriously, WTF, I have been looking for infinity and it takes him 24 hours?!). Upside-down pics of all of them:

(note that the one on the far left is a natural AVR to help me compare the colors)
He immediately identified the one that's the 2nd from the left in the upside-down pic as his favorite for me, but I was worried it was too *pink* and less brown-pink. Because I am insane like that, and PREFER brown.
I told him I preferred the other 4 options, so he focused on those for the videos below on you tube:
and
.
360 of all 5 of them here:
https://www.dropbox.com/s/xafecnj5ipd2hkn/Compare - LG117KVS2&LG163KVS2&LG159KVS2&LG151LVS2&LGLTPINK150LVS1.html?dl=0
But then he posted this on his IG:
https://www.instagram.com/p/B27rvmxhtMa/
and I freaked out because the one I was scared of being "too pink" actually looked pretty darn close to my ideal color.
In the end, these 2 were my favorites (they are the last 2 on the bottom of the 360 video of all 5 (see the square below)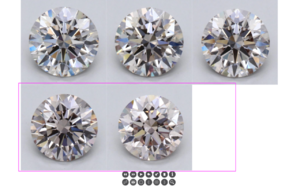 He posted them both to his website with the 360 videos
https://www.augustvintageinc.com/collections/featured-specials/products/1-50ct-l-vs1-lt-pink-round-brilliant-cut-lab-grown-diamond
https://www.augustvintageinc.com/collections/featured-specials/products/1-51ct-l-vs2-brownish-pink-round-brilliant-cut-lab-grown-diamond
After trying to decide between the two for a few hours and getting nowhere, I decided to be a little crazy and just order both to see IRL.
They will be here on Tuesday! HOORAY!
What do you guys think? Guesses on which one I'll prefer IRL? I really have no idea. But if I don't buy the more pink one, there are like 10 ppl on IG who wanted it, so luckily I'm not screwing over
@Rhino
if I don't choose that one haha.
EDIT. Tagging
@Starfacet
,
@KKJohnson
and
@ForteKitty
since they were all at the G2G when we were discussing my search