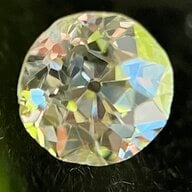 Joined

Dec 16, 2007
Messages

24,368
When I asked how many diamonds people owned, I was surprised to see how many people have had broken engagements!
I myself have been either too ugly and unpopular with the boys, or too smart
, to have a broken engagement. But boy I am really curious about all of yours!
So, if you have had a broken engagement, and it is now a distant memory that you can talk about freely and maybe joke about too, care to share? How old were you? How long were you engaged? What propted the end?
Readers digest versions please!