Now Brilliant Earth is photoshopping away every GIA Cert's identifying information and even QR codes! Check any stone on their site: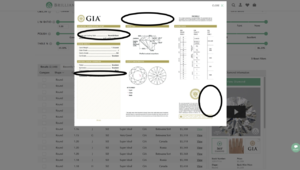 James Allen's extreme moves are not surprising, considering it is a sinking ship. Signet just wrote off $260 million out of $300 million dollars of the purchase price, essentially admitting it was worthless, and public data shows sales are shrinking fast. Lie with dogs, get up with flees they say.
Wonder what the GIA thinks of all this. This can't be good for consumer trust.