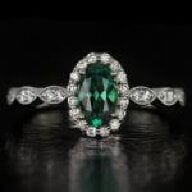 Joined

Apr 13, 2015
Messages

269
I'm clearly on a diamond kick...in the process of creating my ring, looking to purchase studs, and now also thinking about bracelets!

To be fair, I've been thinking about bracelets for a while. I realized a few months ago as I was getting ready for my engagement party that I have no "nice" bracelets. I have a lot of beaded bracelets, sterling silver bracelets, and Alex and Ani bracelets, but I don't have anything appropriate for more formal occasions. I don't usually wear bracelets a whole lot, so I'm not surprised that I've gone so long without a nice bracelet, but I would like to have something that a few steps up from Alex and Ani and appropriate for more formal times.

In the long term, I would LOVE a nice tennis bracelet, but that is definitely not in my budget at the moment. Is there any other type of bracelet I can look into? I obviously am into diamonds at the moment (and I like that they would go with everything), but I'm open to gemstones/colored stones as well. I would love to do double-duty and find something that I can also wear at my wedding! I also have kind of smallish wrists (about 5.5 inches), so while I want something that has a presence, I don't want anything too big or overwhelming (something I seems to struggle with when it comes to bracelets in general).