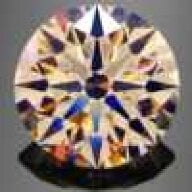 Joined

Jan 26, 2009
Messages

360
I received my Jeff White sapphire this week....based on the photos I received, I knew I would love it....I was giddy with excitement when I was tearing open the packaging....and then.....disapointment.

This is my very first sapphire and having only seen them in photographs, magazines and jewellry stores, I was quite shocked to find how much I dislike it in various lighting (mostly inside my house). It puts on quite a show in photographs (flash) and is quite nice in daylight but everywhere else it''s just sort of blah. Maybe blah is a little strong, it''s beautiful, but it''s much darker than I was expecting.
My photos look the same as Jeff''s, it''s how it looks IRL that I''m trying to wrap my head around. For those of you with blue sapphires, are you happy with your stone in all lights? Is it possible to have sapphire that looks bright and blue indoors or is that expectation totally unrealistic?
LostSapphire, I''d love to hear from you, and if you have any photos of what your blueberry looks like inside your house (no flash), I''d love to see them!