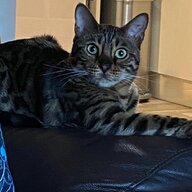 Joined

Jun 16, 2021
Messages

52
Hi, I've just come across this site, after purchasing a diamond and setting from Brilliant Earth, currently in production.
I've spent the evening reading up various posts and articles, which I've found both alarming and reassuring.
My fiancé and I particularly wanted to buy a Canadian diamond for family reasons. Could have done with your advice beforehand, but I'll summarise how it went.
I have tiny hands. I know 8yr olds with bigger! Therefore I don't want any stone too large. On looking on the website, there was a section for Canadian diamond's. I like the more colourless diamonds, having had an old family ring which diamond looked very yellow. We already had decided to get the best cut possible. So started search for D/E, .30-.40, round, super ideal cut and anything VVS and above. We were pretty stunned to find a FL within our budget, liked a setting with some pavés, and whacked in an order.
However, over next couple of days, we'd looked a bit more at the site and realised nothing except Brilliant Earth was showing the diamond was truly Canadian.
A bit more research and we realised there were GIA Origin diamonds, which listed a number of countries on the online GIA Certificate, but website summary said was Canadian for another we liked. That was 0.60, so larger than we really wanted, but still IF.
At the same time, we saw there were also Blockchain diamonds, which appear to have a full trail from mine to purchaser. We'd never heard of these before, but quick internet search was pretty reassuring.
I was put in touch with a consultant from Brilliant Earth and we discussed the three. They as good as admitted the first couldn't be proved to be from Canada. Then the larger one they said was down as Botswana Sort, which didn't mean it wasn't Canadian, but as they couldn't guarantee, they recommended going with the Blockchain which will be fully secure and show the chain from mine onwards.
I'm currently awaiting more photos as I only have very basic at present and didn't screenshot the angles measurements before details were removed as sold.
But have any of you bought Blockchain? We're told it comes directly from Everledger and is a transfer of assets for the diamond. They will also request a copy of the diamond certificate for us.
I attach the limited details for the one purchased, and the GIA for the one that cannot be shown to be Canadian.