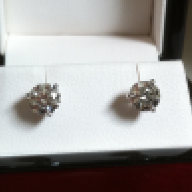 Joined

Jan 18, 2009
Messages

2,215
I've been thinking about what to get for my upcoming birthday...would love everyone's thoughts. I've been debating the following:
1. 5 stone step cut ring: Initially, I wanted a 5 stone step cut ring as documented in this thread
https://www.pricescope.com/community/threads/5-stone-ring.163583/
. But, kitchen renovations have sucked up the bling fund for this year, so it's probably out of the range of possibility for this year (but not next year). Gypsy kindly posted a ring on ebay that I LOVED (the 1.7ct)....but I'm nervous about going that route. Any thoughts?
2. Small diamond band: small diamond eternity in the few-hundred-dollar range...like this...
http://idjewelryonline.com/product_info.php?cPath=53_127&products_id=9200
. It will satisfy my need for new bling, but not be too pricey so I can build the bling fund for a nice 5 stone next year.
My only question about getting a small diamond band is around whether I can wear it with my wedding band. I wouldn't want to wear them together, but my wedding band is a bit wide...like this:
http://www.whiteflash.com/wedding-bands/comfort-fit-wedding-band-425.htm
.
Would it look weird to wear a dainty diamond band with my wide platinum ring? Would the diamond band have to be in platinum too if I wore them together? Any suggestions to revive my hopes for a 5 stone step cut?