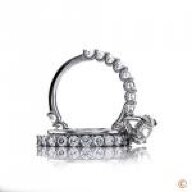 Joined

Jan 24, 2016
Messages

8
Hi Everyone!
This year is mine and my DH's 10 year anniversary. We decided to upgrade my wedding set because of our milestone anniversary but also because I've recently lost 80 lbs and 3.5 ring sizes (YAY!!) and my current set no longer fits me and is unable to be sized.
I ended up going with BGD because of their stellar reviews and I absolutely fell in love with their Blue Signature diamonds. What a cool effect! I really wanted around a 1 carat diamond with the absolute best cut so had to compromise on color. I ended up finding a great K diamond with strong blue florescence. I did have slight reservations due to it being beside their 5 point F/G Signature melee. I wouldn't call myself color sensitive and was hoping due to the excellent cut, clarity, shape and strong blue fluorescence it would face up whiter in most lights.
Now on to the stats:
1.028 ct K VVS2 Brian Gavin Blue Round
Measurements 6.49x6.50x4.00
Depth % 61.5
Table % 56.1
Crown Angle 34.7
Star 51.00
Pavilion Angle 40.8
Crown % 15,2
Lower Girdle % 76.000
Fluorescence: Stong Blue
Now on to the setting lol. I again fell in love when I saw a u-prong 3/4 eternity band at a local jewelry store and just knew thats what I wanted to build my design around. Leslie at BGD was absolutely AWESOME to work with and answered all my questions and concerns. They designed a complete wedding set after their 3/4 U-Prong eternity band with 5 pointers in 18K White Gold. I also had them add in a 1mm spacer band to make sure the rings wouldn't get destroyed being next to each other.
I finally received my glamour shots and they came out exactly as I envisioned in my head!!!! Now I am just un-patiently awaiting their arrival. I live in Texas and decided to have them shipped out-of-state to my Dad to be appraised and they are on their way back to me via USPS priority (what a joke cause its not priority lol) registered mail. There is definitely warmth in the center stone in the pics but Leslie said they look absolutely amazing in person.
Please give me your honest option! Do you think it looks too "warm"? For those of you other warmer diamonds/fluorescence owners, do you find your diamonds looks "warmer" in photos than in real life? What type of lighting do you notice it the most? I also want to say a BIG thanks for this blog and all of you! I've learned so much!
Here are the glamour shots: