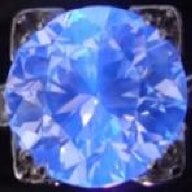 Joined

Apr 26, 2007
Messages

8,087
I lurve bezels. Madly. Passionately. Practically.
Bezels are completely awesome for safety: for maximizing stone size; for just looking really cool in an ancient-meets-modern sort of a way.
But, as with all things, there are trade-offs. For example, in the wrong setting, gunk can build up and interfere with the brilliance of your stone. And it's not even a question of expertise: sometimes, even the best jeweler can miscalculate fractionally.
My custom guy has been making most of my stuff since I was ... 20? So that's an awful lot of bezels, over the years. But when he made my pear pendant, it looked a little dull, and it took me a while to figure out why. He'd shaped the back of the bezel just a
leetle
closer to the stone and a
leetle
further along towards the center than optimal, so while it looked great right after a professional ultrasound + heavy-duty steam-cleaning ... at home, I couldn't get it clean
at all
. Not with a Jewel Jet: not with a little scrubby brush; not with all the Dawn in the world; not even with a stolen cat's whisker, still too coarse to get into the space. (What?!? Necessity is the mother of invention.)
So I had him take a burr and clean it out last year, and it was better ... but still a little dull looking. I figured it was just less of a good cut than I'd hoped for when I bought it. But I took a closer look the other day, and ... yep. While not
as bad
, a persistent ring-around-the-collar was still building up at the bottom of the bezel, right where the biggest facets on the pear were!
So back to the jeweler I went, and, bam! It's a
fireball
all of a sudden. I keep getting distracted by stray rainbows shining forth from my bosom! (Ahem.) So ... my public service announcement to you: loupe your stones pre-and-post setting, and if you see any gunk or interference, hie ye to your jeweler! It's 20 minutes work with a burr for them to make it right.