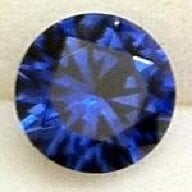 Joined

May 16, 2010
Messages

150
I'd like to give my wife a necklace with a December birthstone, to celebrate and thank her for our newborn baby boy (who will be 2 weeks old tomorrow). However, I didn't see any tanzanite necklaces in my local jewelry stores that I liked (they all have too much of a purple hue), and she said the blue topaz necklace I bought her from Macy's is too "fancy" to wear to every day:
http://www1.macys.com/shop/product/blue-topaz-3-ct.-t.w.-diamond-1-10-ct.-t.w.-teardrop-pear-pendant-necklace-in-14k-white-gold?ID=508288&CategoryID=9569
So I need a more casual necklace with a December birthstone, and I'm in Salem Oregon so there aren't too many options for jewelry stores. Should I just buy her something that she like the looks of online, and hope the gem looks great in real life? (In which case do you have suggestions for websites?) Or does anyone know of a good jewelry store in Salem? Portland is an hour away, so kind of a hassle just for necklace shopping, but doable.
My price range is approximately less than $500, but $200-300 would be better. She prefers yellow gold, but white would be fine. No need for accent diamonds, but it's OK if they are there.