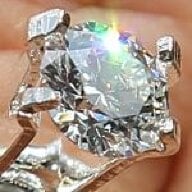 Joined

Apr 25, 2014
Messages

8,221
Hi all,
So... the other half needs a wedding band...
She is driving me absolutely insane right now because she just wants to go and buy any old rubbish
NOWWWW!!!1!11!!
, just so she can tick it off her list of things to do for the wedding

(A Bridezilla attack is imminent at this rate because her list of things to do is not getting smaller at the rate she wants it to...
) but if I'm spending £500+ on a ring, I want to make sure it's the best quality I can get!!
She likes this one, which I swear looks very similar to a ring I've seen posted on here, but I can't for the life of me remember when or where I saw it
and I'm reluctant to pay even the 'sale' price of £629 for a quarter carat of I-I1 diamonds and a couple of hundred quid of platinum:
http://www.hsamuel.co.uk/webstore/d/4545362/emmy+london+platinum+1%2f4+carat+diamond+ring/?cmCat=OVM
]
Does the design ring any bells with anyone?
And if not, who would be the best person to approach about getting it made with PS-quality melee for a reasonable price??
I'm guessing
IDJ
, going from the recommendations on here, as I can't afford VC or SK handforged work!
lol
Any help very,
very
gratefully received - if I can get things sorted out then it will make everyone's life a lot easier...
lol