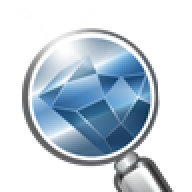 Joined

Dec 31, 1999
Messages

8,266
I was just hanging around with my camera when I stumbled upon Benchmark booth. The name sounded familiar and I stopped for a second thinking whether I should I take a picture.
While I was thinking a guy (A.J. Tosyali – my apologies for forgetting the first name!) asked how he can help me. I explained that I just making pictures for the forum and whether they have anything interesting for consumers to learn about.
A.J. told me that they now have a new technology of precision robot diamond settings in the wedding bands. I was surprised because I thought that hand made custom work is what people like.
A.J. explained the robots set up the diamonds extremely accurately. All the diamonds are of the same size and set very evenly in the band. I assume to make it by the hands would be very difficult.
I looked at some diamonds bands – well diamonds were distributed very evenly and accurately indeed

At this time two oriental ladies approached the booth. By my request A.J. asked one of them (very miniature one) for permission to put one of the rings on and make a picture.
Here it is

Thanks A.J.!