Joined

Apr 23, 2011
Messages

35
This may be lengthy, just a forewarning! But I hope you can help!!!
Hey everyone!!!! I just want to say, i'm so glad that I found this site! I have learned so much just lurking around here for the past week or two! And boy am I glad, the gf and I had been browsing in many many B&M stores, and that may have lead to a big mistake. At least I got an idea of what she likes

.
I found out she likes Princess cut, and 3 Stone or Halo (I would have to pick, she that was enough info lol)
So i've been searching and have found a few Natalie K. Rings that I really like, and think she would love (3 Stone & Halo's lol)...
So I inquired pricing through firenze, as there one of the bigger online carriers of that designer. I also then went back and forth with
BGD
(Denise was great, sooo helpfullll!), but when the quote returned for a custom ring close to it was only about $25 cheaper the the original.
So.....
Today I journeyed to a local jeweler who carries Natalie K. They were very nice, and very helpful, I just want to check how good/bad of a deal this is (as i'm still not the most knowledgable on diamonds). I mean I originally intended to do a complete e-ring, but the price difference wasn't substantial for the setting I want, and I really do enjoy the comfort of it being local and being able to see it.
So anyway, I originally found this ring, which is what I was hoping to find (but I cant even find it on the Natalie K. website, so I think its an older design)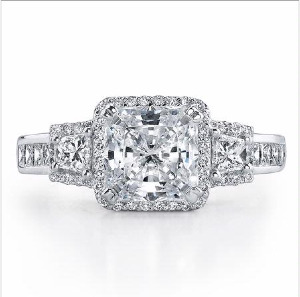 So we talked and I found this ring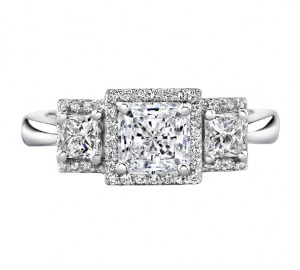 oh and the ring is located at
http://www.nataliek.com/bridal-sets/bridal-collection/nk15678eng.html
And we talked about doing some custom work to it. So what we decided is to pretty much redo the whole shank (whole ring portion right? sorry for my lack of knowledge of terms) with a little wider band, sort of like the first one, with 5 princess cut diamonds channel set on each side (I was reading how pave could possibly fall out easier, and I like the look of channel set anyway).
So the ring would be set up as follows
14k Gold Natalie K base w/
2 princess cut supporting stones @.47 ctw
76 round around the halo @ .35 ctw
then add
10 princess cut channel set @ .5 ctw
So roughly 1.32 ctw G-H VS-SI1
for around 3300
Now the center diamond they showed me was a princess cut
GIA Cert., but I didnt see a cut grade (is this bad?). But I did get some data from the label
1.02 ctw
VS2
F Color
Depth 66%
Table 70%
Dimensions (5.9x5.81x3.86)
for $5200 (probably a little high a?)
So a total of 8600 otd (which is in my budget of 8-9k)
(they said they would pay the tax for me)
So, sorry for the long long story, but overall, what do you think? That bad of a buy? Should I stick to an e-ring? I feel more comfortable buying in store (if reasonably priced), but there close, and offer a lifetime warranty on work/ring (other than loss or theft, etc..)
Thanks again in advance!!!!