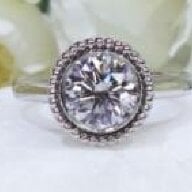 Joined

Dec 18, 2011
Messages

70
The actual ring will not be here until tomorrow, but I figured since it is now "Facebook official" (with photos posted on the David Klass Jewelry facebook page), I would go ahead and post to share the story and details.
First, a HUGE thank you to everyone in the PS community for their advice, opinions, education, and guidance through this process, and most of all for pointing me in the direction of David Klass. I could not be more thrilled with how the ring turned out! It is truly more beautiful than I ever imagined.

The story (feel free to skip ahead to the photos!): A few weeks before my 10th anniversary my husband asked if I wanted to upgrade my ring as an anniversary gift. Uhhh, YES! So we went to a couple of the higher-end local stores to get an idea of both size and shape for the upgraded stone. Initially, I thought I wanted either a cushion or emerald cut, but eventually realized I preferred my original MRB. I looked at some larger MRBs and honestly had a difficult time seeing a substantial size difference unless I at least doubled the carat weight. Even at that size, something about my original ering stone was calling my name. Not sure if it was sentimental attachment or something about my diamond's unique "personality" but I eventually decided to keep my original stone. So then we switched gears to RESET! My original setting was set high and I had scratched my young kids with the exposed girdle a couple of times, so I was leaning toward a bezel both for functional and aesthetic reasons. The 22-page "Show us your bezel rings" thread is awesome and really helped me figure out what I wanted and also what I definitely didn't want in a bezel setting. I sent David a few photos and list of things I wanted in the ring. We made some minor edits, but the first set of CADs pretty much nailed exactly what I had in mind.
1.22 F VS2
Size 5
Side halo has 0.2 cts of F VS full-cut stones
Here are a couple of photos from David and Amy. I will post about a million more when I get the ring! I'll also include some before photos. Who doesn't love a good before and after reset post???