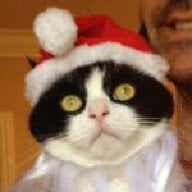 Joined

Oct 7, 2004
Messages

5,239
NKOTB|1308591021|2950272 said:

WOW, what a collection! Beautiful...What is the pink stone, third row down, 4th from the left? What about the greenish stone, bottom row, between the olive green cab and the bright orange stone? (both in the group shot)

I am still waiting for my supernova Namibian tourmaline from Barry. He sent it right after the drop that started this thread, but this postal strike is killin' me!
Thanks!! I really need to take better pics outside or something. My room is turquoise and dark so it's not ideal for pics. The spinels glow a beautiful reddish hot pink, but you'd never guess from my awful pics.
The pink stone is a rubellite tourmaline cut by John LeBourgois, 3.something carat asscher. It was supposed to be in a ring but now i'm debating if it'll be better as a pendant.
Bright green stone on bottom row is chrysophrase, i got that from Barry as well. It's carved but obviously the details are lost. It's going in a bezel as an index finger ring.
Fingers crossed for you!! hope it gets there soon. Barry's cuts are amazing!
eta: the barry and gary spinels look most like the bright part of the top stone in the attached pic. all the time!