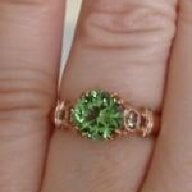 Joined

May 1, 2011
Messages

509
Picked up today!
Vendor photo plus stats: 0.86 ct., 5.8mm round brilliant. This Mahenge spinel has a rich medium dark pink color. It is just short of flawless at 10x, having a tiny inclusion in the pavilion.
On opening this, I was thrilled to see it shows serious flashes of other colours within it: Barry's photo is totally accurate in that the main colour is a rich medium pink, but I also see a lot of sugared-almond pink, plus hot glo-stick pink, and also pinky-purple. It seems to show more purple in darker conditions too. And - something I really have not managed to capture, being rubbish at photography and all! - is how much it freakin' SPARKLES and GLOWS! It is more than a match for the spess, and I am totally in love with it.
The plan is to set the three stones you see below as a set of stackers, that also would have enough presence to be worn singly. I'm really pleased with the colour combination, relative sizes and "show-off" balance of the three stones. I'm thinking of Sally lotus settings for them - possibly high, low and bezel for the spess...?
I have to save up first so I don't have to decide now

On to the pics...!