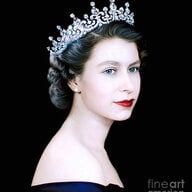 Joined

Oct 24, 2012
Messages

8,216
My Tiffany oval hinge bangle keeps popping open & a couple of times I have caught it as it's fallen off. It has a box tongue catch & after looking online, I found that you just need to gently prise the tongue section a little higher to provide more resistance inside the female part of the clasp. This worked for a few months & the bangle was rock solid & impossible to remove without 2 hands when I took it off to use the polishing cloth.

But now it feels like the tension on the tongue has gone, almost as if the fold over at the V-end of the tongue is beginning to fracture & no longer has any strength. Please note I don't remove this bangle & I wear it 24/7, so there has been zero excessive wear on the clasp.

According to the internet this is a common issue with this T2 hinge bangle model & first came to light late last year. Tiffany will refurb the clasp & add a small figure of 8 catch at the side here in the UK for around £300. My local jeweller will do exactly the same for an awful lot less money.

Have you had this problem with your Tiff bangle? How did you resolve it? I am tempted to drop it to my local & very fabulous bench rather than send it away for essentially the same work. I never intend to sell this piece so I am not concerned about Tiff's not doing the work. I would be devastated if I lost it.