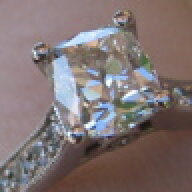 Joined

Apr 15, 2007
Messages

222
Based on my avid reading here on PS, BF and I spent two hours at ERD with Gary today. Mark was unfortunately indisposed, but he had set aside a few diamonds for us to choose from. Gary was knowledgeable, kind, and patient with all of our beginner-esque questions.
Without further ado, I request your input on the stone we chose. We''re so excited about it, but this is our first diamond so it''s a little intimidating...
0.94 carat, H VS1, Cushion Brilliant
GIA Specifications
Measurements : 6.18 x 5.42 x 3.68
Depth : 67.9%
Table : 56%
Polish : Excellent
Symmetry : Excellent
Fluorescence : None
Ratio : 1.14
Stupidly, we took no pictures. I really want one of those magnified pictures to post proudly on the screen, but I''ll just try to attach an image of the facets to give you an idea of what we''re looking at.
Everything seems perfect to me, but BF and I are just curious to know if $3600 sounds right for those specs. We love it, but, like I said, we''re new to this and hoping for moral support.
Thanks for any input you can provide!