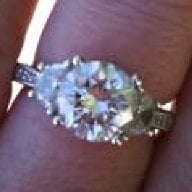 Joined

Jun 18, 2010
Messages

5,765
There was a really fun post in the BWW about wedding trends you hate. Sort of a free for all to say what you really feel. It was really interesting to see how some things are so loved by some and hated by others. I thought it would be fun to do a similar post about baby names...since it's something about which we ALL have opinions.

What's the name you hear where your first response is "Ugh...that name sucks."? The only rule is you aren't allowed to be offended if someone hates a name you love (even if it's your name or your kid's name).

I'll start-

I have a friend whose kids' names are Scarlett, Eleanor, and Ezra. Ick. Definitely not my style.