I ordered a GIA certified (1 ct. J SI2) diamond from
B2C
Jewels about 3 weeks ago. GIA report # 2175656287.
Under INSCRIPTION(S), it reads "GIA 2175656287, SPECTRA 81, 173040114".
Shape and cutting style........ Round Modified Brilliant.
The rep at
B2C
told me it had 81 facets, which means it sparkles a lot (??).
I brought the stone with another AGS000 diamond to my jeweler to have them set in earrings. He texted me last Friday and said it was tested as Moissanite!
, but the other AGS certified stone was still tested as diamond. I didn't want to believe him so I actually went to the store yesterday and he did it in front of me. He was testing it for at least 3 times, and all those time the tester shows it was moissanite. NONE of those time it came back as diamond. See pic below.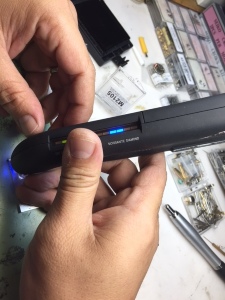 On the other hand, when he tried it on the AGS stone, it came back as diamond all of the times. So I would think the tester is pretty consistent.
HOWEVER, I brought it to another jeweler who didn't use the diamond tester at all, he then brought both 2 stones inside his office, was louping them and doing whatever he was doing (I could see him through the window, but not sure exactly what he was doing with the stones). He came back out and said they were both diamonds. Now I'm confused. I still have until July 15th to send the stone back, but I'm so torn and don't know who to believe. So please give me some advise.