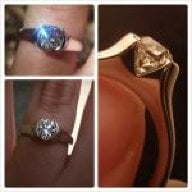 Joined

Oct 2, 2008
Messages

4,946
Good Old Gold
is asking on it's Facebook page for people to "Like" their post if you're interested in having melee sized AVRs and AVCs!! This is so exciting!! I LOVED LOVED LOVED the 5 stone wedding bands in the .25-.40 point stones, but that is out of my (and a lot of people's) budgets.
Here's what the post says:
Good Old Gold
Just finished talking with my melee cutter. What would you guys think of various AVOEC pieces featuring .10ct AVR's and/or AVC's? "Like" this if you think it's something you could fit into your plans for an upcoming jewelry gift present idea (pendants, earrings, etc.).
Bravo Jonathan for making these beauties in the first place, and for making them in all colors and now sizes too!