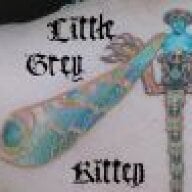 Joined

Nov 27, 2007
Messages

2,975
OK so a few months ago I was a bad, bad girl
and acquired that lovely S/T light brown 1.5 carat VS1 August Vintage Cushion
GOG
had. I had been wanting a top brown for awhile- I'd owned and eventually sold a lovely OEC that was ungraded, but probably M or N colored, a gorgeous mix of brown, pink and grey. So when this stone popped up on
GOG
's inventory I eventually caved and got it.
It is not quite as cool colored as the OEC I had, and it has more color in general, which I wanted- this stone is more of a warm peach colored most of the time. While it is only called "light brown" with no modifiers on the GIA report, it's definitely got some pink in it, at least to my eye- it shows in most lighting, actually. It's a soft peachy, sort of flesh color most times. I *love* the color! I would absolutely say that some top browns are incredibly beautiful colors, and a total steal.
I finally got it set by
BGD
. Their millgrain bezel bracelet is a great price. It's not totally ideal- but for the price I'm happy for sure. It does leave the whole pavilion of the stone exposed, so it sits right on your skin, which gets it grubby fairly quick. Luckily the AVC cut is lovely enough that it still looks great even a smidge dirty... also wrist skin doesn't grubbify it as much as, say, a finger would. Also, the bracelet is probably intended for slightly smaller stones; it flips upside-down constantly. However the pavilion-side-up view is surprisingly pretty. The cushion cut with the four huge mains just looks neat upside down and they return these huge mirror flashes of light like that, so it's not unattractive upside down; more interesting looking than a RB would be.
Also, oddly enough, the rose gold washes out the color some. It needs some white stones for contrast, badly- or at very least some white metal. When you set it next to white diamonds in platinum, it totally pops and looks very pink with the RG bezel, but by itself it just kind of blends. Which surprised me- I assumed the RG would be enough to bring out the pinkish hues.
The very cool thing about the extremely fine RG chain is that the diamond appears to almost float on the wrist, which is a truly cool look. It doesn't play well with anything else, no bracelets or watches. It's a very minimalistic look, which is not my usual style, but the millgrain bezel is a nice antiquey touch (along with the cut of the diamond) and that kind of ties it in with the rest of my jewelry.
Oh, and the bracelet is absolutely not possible for one person to put on. You have to have someone else attach it, so once it's on... it's on. (Plus DH hates fiddly clasps and can barely do them up anyway, haha.)
I got the bracelet quite small in hopes that it wouldn't turn under my wrist- which was a very good call, it still does sometimes but if I'd gotten it any bigger it would be really annoying.
In terms of comparing the AVC with an actual antique cut- I was pleasantly surprised that the OECs I own actually are well cut enough that they hold their own against the modern, light-return-optimized AVC. You really can't see much difference in performance, between the AVC and the OEC I own that is the exact same face-up size (1.22 carats, both are a smidge less than 7mm). The AVC has more of a mix of facet sizes- huge and smallish- while the OEC is more of a uniformly large facet look. But both cuts are just firecrackers, no visible edge to the AVC to my eye.
Anyway, I took some pics, but I realize I totally failed to take any comparison shots showing it right next to white diamonds in white metal. Oops! That would have been helpful. (The e-ring I'm wearing is an M color btw.)