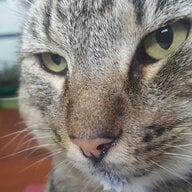 Joined

Apr 30, 2019
Messages

10,729
Honestly, guys. I decided to keep the chain. I gave it some thought, and when I did more research, I watched videos on youtube of people comparing hollow rope chains to solid ones with similar measurements to my curb chain, and I saw that the hollow rope chains that look super thick turned out to weigh no more than 12 grams on average. And solid rope chains are just over an ounce. My curb chain is nearly double the weight of a hollow rope chain which looks a lot bigger than my tiny curb chain. So with that logic I can say I'm satisfied with my purchase.

I know that jewellery shops in the mall are basically made up of salespeople that don't know much about their product and just want to sell it to you. So yeah basically to anyone new reading this, things to consider that I learned are always ask the weight first, then the width of the links, and ask if it's solid, then compare it in each hand to a similar product they have that they say is hollow, and feel which one is heavier.

It's incredibly hard finding something to your standards, so I can't be too picky. You guys even said my chain is definitely reasonable for the price, so I can't complain anymore. Next time if I feel like adding more jewellery to myself, I'll be asking a lot more questions, and definitely consider weight as a factor.

Thank you all for the replies, it really helped me make up my mind and give me more knowledge about the jewellery world. Have a nice day, everyone.
Im so glad you are happy with it
And good that your can put your mind to rest over the worry of being ripped off