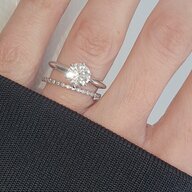 Joined

Sep 17, 2020
Messages

80
I am almost certain that I am going to be purchasing a diamond solitaire from
Whiteflash
but I am still open to the idea of buying something locally if I can find a super ideal cut. Yesterday I had a bit of a blunder with an online purchase (not from any known vendors here) and now I'm dealing with returning/exchanging etc.
It really got me thinking about the what ifs and how annoying it would be if for what ever reason I had to send the ring back.
All this to say, are there any places in Australia that sell super ideals for a reasonable price? I've looked into Holloway Diamonds but sadly way out of my budget. Some places sell Hearts on Fire but again priced too high for me. Tiffany (not superideal I know) as we all knows is super super expensive.
Its so frustrating that it is more affordable for me to buy from the US with additional taxes and the poor exchange rate than it is to buy something half decent locally.
Fellow Aussie's, where did you buy from or where can you recommend? Is it possbile to get a super ideal here without taking out a second mortgage haha!!