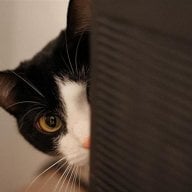 Joined

Oct 3, 2003
Messages

622
Being a PSer, my dream was one day to have a
WF
ACA
stone, and now my dream has come true! I have in my possession, a gorgeous
WF
ACA
3.366ct. engagement ring that takes my breath away

I've posted the specs before but here they are again:
Shape: Round
Carat: 3.366
Color : F
Clarity: VS2
Cut: Ideal
DIAMOND SPECIFICATIONS
Depth %: 61.7
Table %: 56.1
Crown Angle: 34.4
Star: 50.0
Pavilion Angle: 40.9
Crown %: 15.0
Lower Girdle %: 78.0
Measurements: 9.63x9.66x5.95
Culet: Pointed
Fluorescence: Negligible
Girdle: Thin to Medium Faceted
When I saw the video, I was blown away by how beautiful this stone is:
http://www.whiteflash.com/loose-diamonds/round-cut-loose-diamond-3595061.htm
It has been a bit of a journey for this ring - my sweet and loving fiance knew I loved
WF
's ACAs and agreed to get me whatever I wanted. I am extremely brand loyal and so I contacted Bob at
WF
(who has counseled me over the course of 10 years with various projects!) to help me with several purchases (more on that later) but the stone I originally wanted was sold.
He said there was a rough stone in Antwerp that can be cut for us and would be about a 3.3ct stone, F color and VS2. We took a chance and it was a little bit of a challenge to wait but I told myself it would be worth it. They sent it to AGS Lab for certification and Bob told me that it *almost* made the E color, but not quite.
I got the ring yesterday and was indeed worth the wait! I was blown away at how beautiful and stunning this ring is.
For the setting, I wanted something simple like PreCiouSJeWeL920 since we almost have the same ring size - she's a size 2.5 and I'm a 2.25:
[URL='https://www.pricescope.com/community/threads/another-happy-customer-from-gog.9927/']https://www.pricescope.com/community/threads/another-happy-customer-from-gog.9927/
[/URL]
The setting is a low set basket with 0.08ctw
aca
diamonds set in the cross bar, split claw prongs, EuroShank and 3mm in width. I wanted the shank to be 3mm because I think it would balance out the size of the stone to my finger. I understand the size of this stone is very large on my freakishly small finger but fiance loves it and so do I

I can't thank Bob and his team enough for helping me - they have been exceedingly patient in my endless calls and emails!
Sorry about my dry and wrinkly hands
For some reason I can't seem to capture the true beauty of this ring. It's been overcast and a bit hard to take pictures in the sunlight.