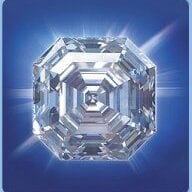 Joined

Jan 5, 2007
Messages

745
Could I get some people''s opinion on the Asscher posted here at
james allen
http://www.jamesallen.com/diamond.asp?cid=130&item=862533
It looks pretty enough but, to me but I am no expert.
I have been reading the forums and see that is has a good table percentage (high 50s low 60s)
Depth looks to be a little shallow but is between 65 and 75
Polish and symmetry both VG
My only issue is that it is an S2 and from what I hear clarity is pretty important when it comes to asschers. I am sure it would jump out at anyone who knows something about diamonds but, where is (are) the inclusion(s)?
All feedback would be appreciated, thanks.