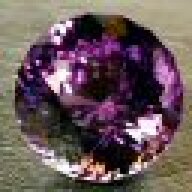 Joined

Feb 12, 2009
Messages

427
Okay dudes and dude-ettes.
TWO things I want to accomplish by starting this thread. First, I will post some info on an asscher that I inquired about simply for the fact that I want to know why it''s so cheap. And I thought you PSers would be the first ones to know why. The images sent to me were blurry, but I''ll post what I got anyway. The actual diamond image is not blurry.
NOTE: If this diamond were actually good, I''d totally get it, because the K color does not bother me, but I am convinced that something else is bringing the price down. And if this is silly, go easy on me, I''m still learning!
Second thing I want to do is let ya''ll know that after MUCH waiting, my official search for an asscher has begun! Budget is 1800ish for the stone, I don''t mind warmer colors, and any help is appreciated.
Okay now images of this thing.
0.85ct K SI1 (verified eyeclean by vendor, no black inclusions.) Report from GIA.
Depth: 70.7%
Table %: 56%
Symmetry: Excellent
Polish: Very Good
Girdle: Sl Thick - Very Thick
Culet: None
Fluorescence: None
Measurements: 5.27x5.18x3.66