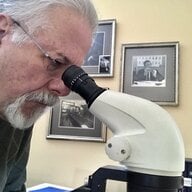 Joined

Sep 3, 2000
Messages

6,676
I see this question being asked in many different ways so I called Royal Asscher''s US Distrbutors'' Fabrikant, and asked them for some answers.

The Royal Asscher is a trademark protected name and cut style. It has 74 facets and has a royal crown laser engraved on the girdle. The depth is 70% in gneral and varies from 65% to 72% depending on the rough and economic considerations. The table can be anywhere from 53% to 60% for the same reasons.

The company line is that no major difference in the looks of the stone occur within those ranges. This may not be totally right, but without looking at many of them, I can''t really be certain. Royal Asscher''s that I have seen have all looked excellent for their type.

Be aware that many imitations of this cut are being made and do not have the same configuration or appearance. Few really old, original Asscher cuts exist. Get documentation from sellers which prove claims of "authenticity".

I hope this helps some consumers buy better.