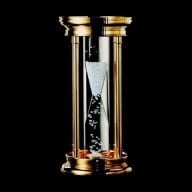 Joined

Nov 6, 2006
Messages

2,398
So just before Christmas, I bought the 2.47-carat F IF Asscher from
Whiteflash
. Here's the thread where I considered the purchase:
Asscher Question
. Although it didn't get super "kicken" reviews, I thought it might be nice in person, which it is. The
Whiteflash
folks are great to deal with too and I love the upgrade policy.
However, today I was in a local B&M in Palm Beach, FL and saw a 3.01-carat F VS1 for $33K. The stats are:
Depth: 69.8%
Table: 65%
Crown: 16%
No floro
No culet
7.91 x 8.24 x 5.52 mm (L/W 1.04)
EGL cert
The picture is below. The stone is definitely colorless (comparing pavilions of other GIA colorless stones) and the inclusion is a small needle well off the table, visible only with my loupe. This stone is much spreadier and possibly a little brighter under the table. The windmills are a little thinner, but they are straight with good contrast.
So I'm freaking out. This stone is only several thousand more than what I paid for the
WF
asscher and it's larger by 0.54 carats. I realize it is a VS1 vs IF, but I can't see a thing in either stone. The L/W ratio in the B&M stone is a little more (1.04 vs. 1.01), but not super noticeable.
What should I do???? Any thoughts on this stone? Is this stone too cheap? Am I missing something? Did I pay too much? eeek!!