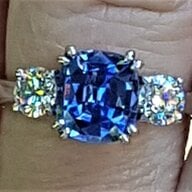 Joined

Apr 5, 2012
Messages

723
I decided to have one final attempt to to choose an asscher that really has the wow-factor. This one has a depth of only 64% which I wasnt sure would translate to the best light performance, but according to the ASET it looks to be very bright. The table is 61% and I have seen a side profile showing a nice crown height and a bulge-free pavilion that is hiding no "junk in the trunk".
Apparently this ASET was done on a white background. I have one concern which is the grey/ green area towards the centre of the image, just outside of the red area around the culet.
@Karl_K
or other asscher experts - is this going to be an area of light leakage to drive me nuts (and look extra dull compared with the bright light return from the outer 2/3 of the stone)? Or could it be that I have finally found "the one"?