Hello, I came across this board whilst looking diamonds. I am reviewing an ASET image for a diamond and wanted to get a second opinion. Please do let me know your opinion of this diamond
Positive, strong patterns and contrast.
Concerns
:
1.
The white parts. Th
ese not alive or does it mean obstruction? Does this mean it is not an excellent cut diamond?
2. Strong green bars on the right hand side and bottom. Preferably these should be dark red from what I understand.
The diamond is rated Very good for symmetry. I expect to the naked eye, this will look fine and I don't need to the excellent.
The diamond is from the guy who inventory the handheld ASET and the
Idealscope
!! I hope that means something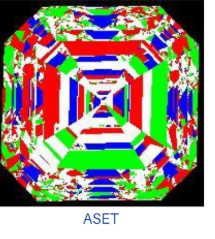 Thank you