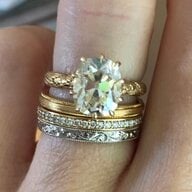 Joined

Jan 2, 2014
Messages

1,859
Can I pick your brains on workouts particularly anyone who knows their stuff when it comes to free youtube ones
I'm trying to lose a bit of weight and tone up, particularly upper thighs, butt, abs and upper arms.
At the moment I walk 5/6 times a week for 45mins to 75mins at a time. I have a recumbent exercise bike I use 4 times a week for about 20 mins at a time.
I want to do some YouTube videos, I have a mat, some of those long resistance bands and a small pair of dumbbells. I would like to find something to do 2/3 times a week. I've looked but there are so many options it's a bit mind blowing.
I need something that caters for Beginner/intermediate (I will put the work, in but my fitness isn't there yet to be hardcore)
I want to focus on building strength
HIIT is something else which sounds like it might be good for me.
I want to be stronger, healthy and tone up. I'm not looking for perfection just improvement.
Would be grateful if anyone has any tips