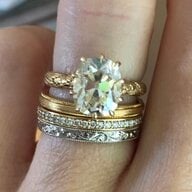 Joined

Jan 2, 2014
Messages

1,859
It affects my confidence too. I was obese in my late teens / early 20's, then lost 8 stone over 2.5 years by sheer bloody mindedness, willpower & hard work. I reached my goal weight & size 12 when I was 24 (I'm quite tall & broad, so this is the ideal size for me otherwise I get too bony) & was lucky to have continued to work super hard & stayed trim & fit. I only gained 25lbs & 23lbs with my pregnancies & was one of those annoying people who were back in their jeans after 3 weeks.

So at this stage now, I am realising how much our hormones play in the shape of our bodies as women age. This isn't a normal thing for me - I'm a size 14 now & feel chubby, even though I don't really look that way to other people. I don't like it.

I love gardening & I love my garden, but since the winter hit & I cleared away the last of the fallen leaves, there's nothing to do out there. And man alive, it's been cold! I also walk a lot. We live really rural & I drag the kids & Mr T out most days for fresh air. When I look at what I do on paper, i'd expect to see a six pack

I have always said that I wanted to be in the shape of my life when I hit 50, just because, and now I'm realising why us ladies get a bit bigger at that age instead. I hugely admire Davina McCall & how she looks. Her face is a little drawn, but I think she's amazing & to think she only started to get fit at my age inspires me.

I'm feeling focused & if nothing else, I just want to still be fit & strong. Having said that, I've been on PS since earlier, sat here in my runners, so I really need to get outside & into those fields before the kids start asking what's for lunch!
Did you manage your run Alex?
I totally get you, 14 isn't big and nobody else is thinking it but it isn't your happy weight. I am a size 12 at the moment. For a good 10 years before having children I was a 10 though and that's where I would like to get back to.
I think davina looks amazing, that furore over her dress the other day was hilarious
. I did a thread a while back when I was trying to get a string of turquoise beads to recreate her necklace look so I even aspire to her jewellery!
Have you tried any of her workouts? I know someone recommended them earlier in the thread, think they might be my next port of call.