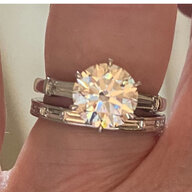 Joined

Mar 31, 2018
Messages

8,481
Today I had to do home visit as they did not want to take a chance with me coming in. Temp today was 99.7 during the home visit. I was sweating but freezing cold, but being combined with an elevated temperature, they don't want to take chances.

FWIW, I do still occassionally have hot flashes...not often as I used to thankfully!!

Anyway they came to my house, did nasal swab, took blood and I have to do spit collection day 3, 5, 9, 14, and 21.

If negative by day 9, no need to continue collecting spit. During this time I will have to chart everything (Oxegen%, Temp, any ailments I might have no matter how slight).

They're not taking any chances by having me come in to the office (can't blame them there) and According to the nurse, they're seeing this quite a bit here, but par for the course!!) it could be some funky thing going around here thats not covid related, but they don't know unless they test to rule it out.

I otherwise feel pretty good. My lungs sounded great, I don't have any congestion. Of course, I don't know unless I test so I'm not going to guess but I'm hopeful its just a case of the cruds.
@Arcadian
..When will you get your results back? I'm crossing fingers and toes it's nothing serious. I'm sure there's lots of other bugs going around too...not only Covid...